Pat Sajak's Lucky Letters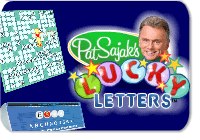 Download The Free Trial!
System Requirements:
Windows XP, 98, ME, 2000, NT
500 Mhz Processor, 64 Mb RAM, 18 Mb Hard Drive Space

Mac OS X (10.2+)
500 Mhz Processor, 64 Mb RAM, 18 Mb Hard Drive Space

Download Time (9.5 MB):
56k Modem: 14 mins
Cable/DSL: < 1 min


You're invited to be a contestant on Pat Sajak's exciting new computer game show!
Spin the slot machine and guess the Lucky Letters to win big. Keep an eye out for the Lucky Chances where you can double your money (if you are brave). Finish off the game by racing the clock to solve Pat's entire puzzle in the Lightning Round.
Then, if you win 5 daily games in a row, Pat will invite you to play in a Championship Game! There, the clues and answers are tougher to guess - and the rewards are even higher!
Enjoy three different game modes: the classic game show Lucky Letters, the fun and fast game of Lucky Ten, and the multi-player game of Lucky Players. In Lucky Players, you and your friends compete to buzz in first to answer the clues and win the most money. There's brain tickling excitement for all in Pat Sajak's Lucky Letters game!
Pat Sajak's Lucky Letters features:
Over 30,000 different clues and answers.
Pat Sajak hosting and commenting on your play.
Three different game modes. Play against friends.
Championship games -- if you win 5 in a row!
Try the best game show ever on a computer.
Download the Free Trial now!
Lucky Letters was created by a partnership of Playtonium,
uclick LLC and PAT Productions. Game © Copyright 2005 uclick LLC.