Mega Monty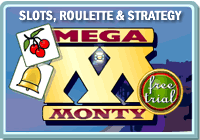 Download The Free Trial!
System Requirements:
Windows XP, 98, ME, 2000, NT
500 Mhz Processor, 64 Mb RAM, 15 Mb Hard Drive Space

Download Time (5 MB):
56k Modem: 7 mins
Cable/DSL: < 1 min


Take a roulette wheel, add a slot machine and a little bit of draw poker . . . and what do you get? Mega Monty, a high-energy game of skill, strategy, and of course, luck. Mega Monty: the casinos never had it so good!
In Mega Monty you draw slot machine tiles from a spinning roulette wheel, discard and redraw to make your best match, and then try to fill in a game board with as many hands as you can. Climb through more and more challenging levels as you search for the winning score in a quest for "cash" and points. Watch your ranking in the game climb as your score increases, and try for the ultimate goal: to fill the entire board.
Mega Monty Features include:
Two Play Modes -- Mega Monty and Classic Monty.
High Score Rankings -- Save your high scores.
Great Sounds & Special Effects -- Plenty of excitement.
Lots of Strategy -- To fill the board, you need to play the odds!
The game that mixes slots roulette and strategy!
Download the Free Trial now!
Mega Monty was created by a partnership of Playtonium
and Boxerjam Media. Game © Copyright 2004 Boxerjam Media.