Wordsense Challenge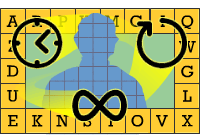 Download The Free Trial!
System Requirements:
Windows


Download Time ( MB):
56k Modem: mins
Cable/DSL: < 1 min


Got smarts? This exciting and addictive word game will have you racking your brain and racing against the clock. Every single game is a fresh challenge for word puzzle lovers of all ages or skill levels.
Build words off of other words from a limited pool of letters, but be sure to play fast! These letters have a shelf-life! Enjoy 3 different game modes: Speed Challenge, Infinite and Round-Based. They each require unique strategies. Play a new batch of games every day, or from any day since 1900! Thousands of game choices available. High scores for every day, too. Wordsense Challenge has a classic board game style, but with 21st century action. Play full-screen, enjoy the ragtime sound track, or listen to your own MP3s with the game's MP3 player.
Accept the challenge and download the free demo now!